The integration of ERP and digital transformation is crucial in the post-pandemic world as businesses can either modernise their core ERP system or create new services based on their legacy systems as they begin the road to recovery.
WHAT'S AT STAKE FOR BUSINESSES IF THEY DO NOT TAKE THE BIG LEAP?
Accelerating your digital transformation post-COVID-19 will likely focus the shift to digital and fundamentally change the business landscape as a result of the crisis. 92% of companies expected their business models to change as a result of digitisation before the pandemic.
Data shows that companies listed on the S&P 500 Index average age of 22 years old, down from 61 years in 1958. Despite great effort and significant success, many businesses are highly vulnerable to the pandemic. Especially the consumer packaged goods (CPG) companies that descended into chaos when online orders went through the roof. Businesses using technology, on the other hand, were able to move quickly, such as India's food delivery-tech company Zomato and Swiggy, as well as global companies like Walmart and Amazon. To meet surging online orders and demand for in home deliveries, the companies worked with grocery and other start-ups.
Digital Transformation and adapting to ERP (Enterprise Resource Planning) solutions has remained the only option for many companies to accelerate their production, supply chain, sales, managerial, operations, human resources, finance, and planning.
WHY SHOULD WE DO IT NOW?
Many businesses thrived during the global pandemic despite the economic crisis and the imposed lockdowns. Working from home was the sole option for the continuation of operations during this model. There is certainly a need for the modernization of critical mainframe systems among many micro, small and medium enterprises (MSME's) or businesses. By transforming IT infrastructure, enterprises can create highly efficient, flexible, and agile IT systems and processes. Before the outbreak of the pandemic, many organizations relied on outdated and inefficient technology to run their businesses. Recent reports state that 71% of IT organizations view legacy infrastructure as their biggest barrier to digital transformation.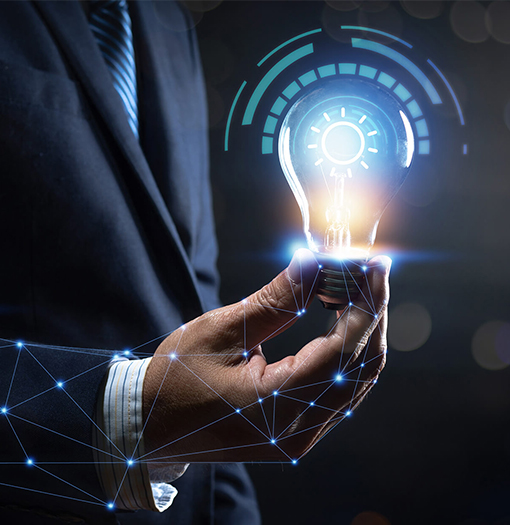 WHY INNOVATION AND CONTINUOUS IMPROVEMENT IS THE KEY TO SUCCESS?
It means moving from active experimentation to active scale-up supported by ongoing testing and continuous improvement. The two dimensions that should be addressed are 1. At the core of the company and 2. In the development of existing businesses.
The overnight shift to remote working highlighted the limitations of the physical infrastructure. Many SMEs and organizations realized that digital transformation can no longer be viewed as an option. It's an imperative.
Thus, organizations are modernizing their IT infrastructure and migrating their business-critical workloads to cloud-based technologies. Tech Integra ERP has observed a 90% growth in legacy and application modernization, and a 95% growth as an overall increase in digital transformation across various sectors among their clients.
Active scaling up means moving from active experimentation to ongoing testing and continuous improvement. There is certainly a need for the modernization of critical mainframe systems among businesses.
WHY IS IT THAT BUSINESSES NEED TO SCALE UP THE LADDER?
Companies that were already on the digital transformation path had well-planned sequences of activities for their digital transformation projects which were based on their priorities and investments in resources. As a result of the lockdown and post-lockdown situation, companies altered their sequence of activities. Remote workforces have now become more productive, and IT systems have become more secure and scalable. A financial restructuring was considered among non-financial teams so they could find ways to optimize all costs which are also essential.
ow, there is a massive push to modernize these legacy applications in many industry verticals like mining, manufacturing, logistics, pharmaceutical, hospitality, packaging, real estate, and many more. These efforts focus on two fronts: liberating the data trapped in legacy systems and democratizing as well as digitizing it through self-service analytics and tools. Business users can now directly access legacy systems, slice the data and extract information that was previously trapped for years. Remember when we used to book our holidays 20 years ago? Travel agents influenced our choices to a large extent based on their knowledge of destinations and their incentives. Now platforms from companies like Airbnb, Make my Trip, and Cox & Kings allow you to explore the world and plan according to your tastes and budget. Likewise, businesses need to be able to analyse their data 24/7 across multiple devices. Modernization has that as its core objective.
WHY DO BUSINESSES NEED TO UPDATE THEIR TECHNOLOGY NOW?
Modernizing legacy systems requires moving ERP and ERP-like systems to the cloud. These activities were halted as a result of the COVID-19 pandemic. Since companies are emerging from the pandemic, they have new energy to migrate to the cloud to modernize their systems of record.
A core ERP system that is enhanced with new functionality can help prolong its life. By using new technologies, businesses can gain an advantage. Organizations can also take advantage of this approach to innovate around legacy IT systems that are deemed too mission-critical to replace.
WHAT THIS ALL MEANS

IT modernization with digital transformation and ERP systems bring required velocity. Enterprises were frustrated for years that IT was unable to meet the growing demands involved in improving customer experience. IT wasn't agile or responsive enough, and it lacked velocity. The new technology wasn't aligned with the business issues around competing with technology. As a result, companies rarely realized the value of their IT investments. As a result of the digital revolution, businesses must align IT with the business to enhance productivity and value creation.
Serving SMEs for 20 years, Tech Integra ERP offers one of the best customisable ERP software and helping businesses with digital transformation in the
current market post-pandemic. It caters to the individual needs of the enterprise making it the best ERP in India and Asia. This everything–included software is cloud-based and is user–friendly. It is your one-stop solution for your needs that are resolved quickly, efficiently, and promptly. You can tailor-make this software to the point of setting it up in different languages. Anyone with the basic knowledge of operating a smartphone could find their way to operate the Enterprise Resource Planning software and achieve impeccable results. If you desire the same, contact us today!
ABOUT AUTHOR:
SYED SHUTTARI – DIRECTOR,
TECH INTEGRA ERP
With over 15 years of ERP Systems, Solutions, and Implementation. He has served many clients across EMEA and the Asia Pacific under his belt. With his honest approach and fine attention to detail, Syed has helped hundreds of growing businesses find the right ERP software and digital transformation to leap into future growth with technology.